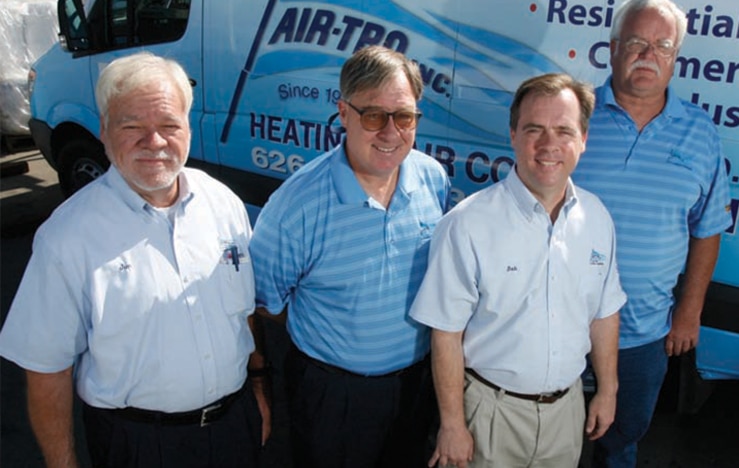 Why Choose Air-Tro
Keep your HVAC system running reliably with professional solutions from the Air-Tro. Call today at 626-357-3535 for immediate service in Pasadena, CA. Free estimates are available on system replacements. We are the HVAC contractors that will get it done right the first time. Call us now to get started. 
At Air-Tro we are focused on delivering exceptional service with every call. Customers throughout Pasadena, CA and surrounding areas have been relying on our HVAC expertise since 1969. We continue to retain the same commitment to quality and honesty. And we provide our customers with a positive experience and a long-lasting solution to their heating and cooling problems.
Curious to see what your neighbors are saying about our services? Click here to read our most recent customer reviews.
Professionals You Can Trust
Air-Tro is your one-stop source for all of your air conditioning and heating needs. Our HVAC contractors will design, install, repair, and maintain HVAC systems for residential and commercial properties throughout the Pasadena area. And, we are licensed to do electrical and plumbing as needed. Our expertise has been acknowledged by The Air Conditioning Contractors of America, who awarded us with the 2011 Contractor of the Year Award.
Air-Tro is environmentally aware. Our bonded and insured technicians comply with all environmental regulations and are E.P.A. certified, so you can breathe easier.
Customers can also count on the integrity of our team and our focus on putting our clients at ease. We feature highly trained technicians who have been positively rated for their professionalism, courtesy, and efficiency over and over again. We have earned the Readers Choice Awards from the subscribers of the Los Angeles Times, the Pasadena Star News, the San Gabriel Tribune, and the Monrovia Weekly.
Click to download our residential or commercial resume.
Personalized Service That Exceeds Your Expectations
Working with an Air-Tro professional means you get to enjoy a truly personal experience. Our team of friendly technicians will work closely with you to provide a customized solution. We take the time to address all of your questions and concerns. And, we ensure that you know what to expect before the job begins. You are presented with an upfront price and options for repair or replacement. We will not carry out any work that you do not approve.
With personalized service comes peace of mind knowing your HVAC system is on track to provide you with the right level of comfort. Our repair and replacement services take into account your property's needs and your preferences. Are you looking to replace an older unit? We will help you choose the best product that will provide you with a high level of efficiency and indoor comfort.
There is no heating or cooling issue beyond our control. We go above and beyond to deliver the best solution that fits your specific needs. Leave your HVAC problems to us. You will enjoy a hassle-free experience that will return you to your normal routine in no time.
Benefits Air-Tro offers to homeowners
Systems are installed right the first time because we use skilled installers.
Repairs are performed by certified and trained technicians, regardless of your brand of heating or cooling equipment.
Protection of your investment in air conditioning with offerings of scheduled maintenance on your air conditioning equipment, whether it's old or new.
Home comfort certified by state-of-the-art air diagnostic tools to make sure that every room in your home gets the right amount of cooling and heating.
Healthy indoor air from using the Indoor Air Quality products we offer, such as electronic filtration, ultraviolet germicidal lamps, and fresh air intakes.
You will have the peace of mind you get from dealing with a local, established, family-owned firm.
How Can We Help You?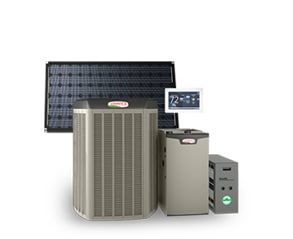 The single most important element that determines a heating and air conditioning system's performance is the quality of installation. Don't take a chance with yours.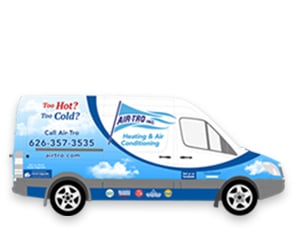 Our trucks are fully loaded for any emergency. Whether you're in need of a small repair or something more serious, our trained experts have your best interests in mind.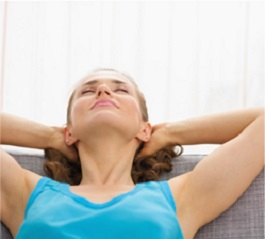 Breathe easy knowing your air quality is taken care of. We work diligently to ensure your air quality systems are installed properly and in excellent condition to do their job.
If you have been looking for a reliable HVAC company, you are in the right place. Give Air-Tro a call at 626-357-3535 and we will send an expert to your door right away. You can expect friendly, professional service and solutions that focus on your long-term peace of mind.