Peace of mind is just a phone call away. Enjoy greater energy savings and more reliable heating and cooling with Air-Tro, your local Pasadena, CA HVAC experts. Call us today at 626-357-3535 to schedule immediate service.
Are you looking for a dependable HVAC contractor in the Pasadena area? Look no further than Air-Tro. We are local professionals who have your best interests in mind. Our team is committed to delivering top-notch service at the best value. When you work with us, you don't have to worry about no-shows or late service, hidden charges, or other inconveniences. We make sure you enjoy a smooth and pleasant experience from start to finish. Click here to read our customer reviews and see what you can expect when you work with us.
Family Owned and Run, Providing Exceptional Solutions Since 1969
Owners Bob and Tony Helbing are fourth-generation contractors, tracing their industry roots back to their great-grandfather, Alois Eck, who immigrated to America from Alsace and founded Eck and Sons Roofing in Chicago in 1897.
Bob and Tony's father, John Helbing—a former naval officer and chemical engineer—moved the Helbing family to Pasadena, CA and founded Air-Tro in 1969. In 1975, John started a separate service department and began offering scheduled maintenance agreements. In ten years, service grew from two to fifteen employees.
John's oldest son Tony joined Air-Tro in 1985 after a successful career in office equipment sales in New York City. The younger son, Bob, came aboard in 1987 from the aerospace sector. John retired at the end of 1993 and the sons now own and run the firm.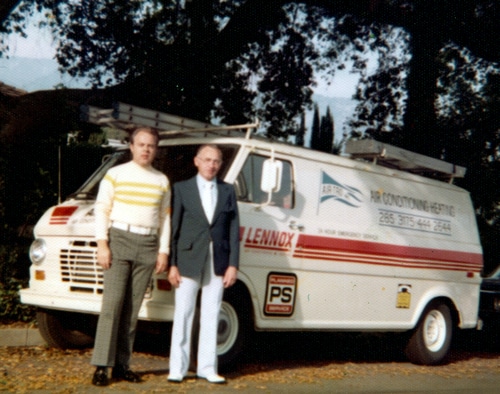 Air-Tro Today: a Fully-Equipped Team at Your Service
The Air-Tro facility has been located at the same Monrovia address since 1979. The building is 11,000 sq. ft. It serves as offices, a warehouse and a sheet metal shop. Vehicles include 22 service vans, 9 Izusu diesel flatbed trucks for the installers and two stakebed trucks for deliveries. Each field employee carries a smartphone for instant access, and all service calls are dispatched via computer.
With instant connection and communication between our team, our customers can rest assured that they will receive the fast, efficient service they expect.
The sheet metal shop uses a computer-controlled plasma torch to speed the fabrication of the ductwork. The office staff uses a Linux data server linked to 14 PCs for dispatching, accounting, payroll, lead tracking and scheduling, etc.
Today, Air-Tro, Inc. is a $10 million/year air conditioning contractor with a staff of 64 full-time employees. We have twenty-two service technicians and sixteen equipment installers. In addition to Tony and Bob Helbing, the management team includes Donn Capps and Jim Hunter. Donn and Jim between them have over 80 years of experience at Air-Tro and in the air conditioning industry.
Commitment to Industry
We understand that we must invest in our industry in order to see it improve and prosper, and actively support several trade organizations. We are members of the Air Conditioning Contractors of America and have participated in its Membership Information eXchange (MIX) Group program for over a decade. This involves semiannual gatherings across the nation to discuss best practices, share stories of challenges met, and learn from industry leaders and partners. We have also served on the Institute of Heating and Air Conditioning Industries board. Bob Helbing has served as IHACI President and is currently on the Board as immediate past President.
Commitment to Community
Air-Tro owes its success to the community that provides us with our customers and staff. To try and give back some of what we owe, we participate as Board members in organizations such as the Foothill Workforce Investment Board, the Monrovia Chamber of Commerce and the Monrovia Rotary Club.
In addition, we support many of the local service and religious organizations, such as the San Gabriel Mission, the Pasadena Humane Society, Downey Regional Medical Center, Santa Anita Little League, and many other local organizations.
Customer-Centered Approach
When you work with us, you can be confident that you are in safe hands. Our team is committed to providing you with unparalleled customer service. We understand that dealing with an HVAC problem can be stressful and time-consuming. That's why we take the hassle out of the experience, only leaving you with the peace of mind you deserve.
How Can We Help You?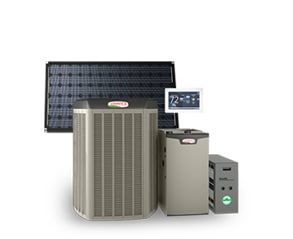 The single most important element that determines a heating and air conditioning system's performance is the quality of installation. Don't take a chance with yours.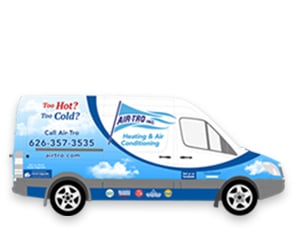 Our trucks are fully loaded for any emergency. Whether you're in need of a small repair or something more serious, our trained experts have your best interests in mind.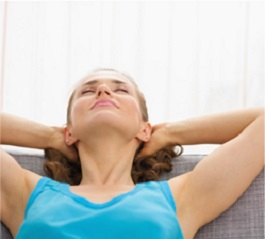 Breathe easy knowing your air quality is taken care of. We work diligently to ensure your air quality systems are installed properly and in excellent condition to do their job.
HVAC trouble should not have to keep you from accomplishing your daily tasks. At Air-Tro we will help you return to your normal routine without trouble. Call us now at 626-357-3535 to discuss your needs and to set up an appointment with one of our experts.