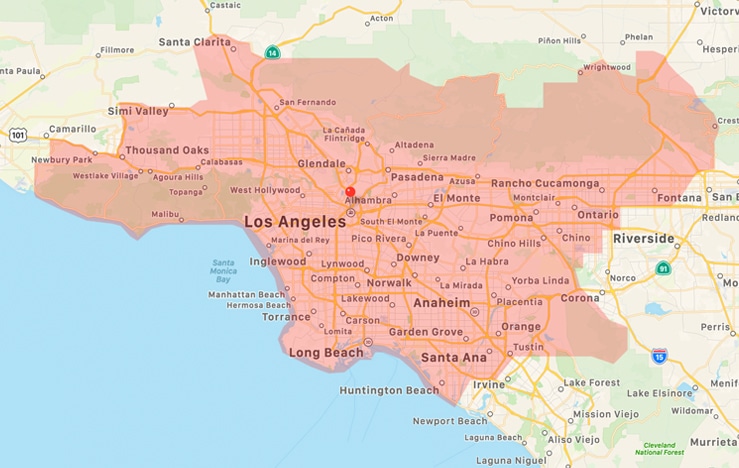 Enjoy whole-home comfort with quality HVAC solutions from Air-Tro, your local Pasadena heating and cooling experts. Call us today at 626-357-3535 for long-term peace of mind guaranteed!
Have a question?
Be sure to check out our Frequently Asked Questions or fill out the form below telling us the best time to contact you so we can answer all your questions. We provide residential and commercial service to the Greater Los Angeles Area (as shown on the map).
Air-Tro, Inc. Heating & Air Conditioning
1630 S. Myrtle Ave., Monrovia, CA 91016
Phone (626) 357-3535
Fax (626) 358-9580
License Number 258228
>> Connect with us on social media
Are you struggling with your HVAC system?
Don't let a failing air conditioner or furnace take up any more of your free time. Get it fixed quickly with a call to Air-Tro. We are here to get the problem resolved as quickly and efficiently as possible without compromising quality. That's why you can count on us to provide guaranteed long-term comfort.
More reasons to choose us:
Personalized solutions to meet your exact needs
Highly experienced, fourth-generation contractors
Friendly customer service professionals greeting every call
Comprehensive assessments and solutions for improved indoor comfort
There is no heating or cooling problem too tough for us to solve. We will get to the source of the issue and make sure the problem does not recur, leaving you with the long-term peace of mind you deserve.
Our Pasadena, CA professional team will ensure that you receive a hassle-free experience from start to finish. We take the time to listen to your needs and answer all of your questions and concerns. If you are not fully satisfied with the service, we will do our best to make it right. Our goal is to make sure you are confident in the results before we consider the job done.
Don't let an HVAC problem keep you from staying productive. Air-Tro is here to provide fast help when you need it the most. Call us now at 626-357-3535 for immediate service in Pasadena and the surrounding areas.
Interested in being part of our team?
Check out our current employment opportunities.