Duarte Furnace Repair and Heating Repair, Installation & Replacement
When the thermometer drops, the heat comes on. Trust Air-Tro for the best furnace repair in Duarte, CA. We are also experts at heating repair and installation. Call us  at 626-357-3535 for a free estimate. Find out how you can save on your next heating project by clicking here for exclusive specials and coupons.
Your furnace or heater is one of the most important appliances in your home. Keeping your family warm through the winter months is important to you, and is therefore important to us. At Air-Tro Inc. we always arrive promptly to fix all your heating problems. Whether it's installing a new furnace or fixing a heat pump, our experts arrive with the tools and know-how necessary to get the job done.
See what others in Duarte, CA are saying about us! Click here to read past feedback.
How to Save Money on Your Heating Bill
With the cost of energy rising, we want to make sure you are doing everything you can to save money on your heating costs each month. While the first step to savings is ensuring you have an efficient heater or furnace, there are other tricks you can employ to save yourself some money each month. Try some of these to save:
Invest in annual furnace or heater maintenance to make sure the unit is running properly.
Clean air ducts and air filters regularly to ensure a proper flow of air.
If you experience recurring problems or notice a higher than usual bill, it may be a good idea to replace your current unit with a newer, more modern model.
Signs That it's Time for a Repair
It's easy to anticipate simple repairs with regular maintenance. However there are some tell-tale signs that could mean a repair is more than necessary. For immediate service, the professionals at Air-Tro Inc. have you completely covered for all your heater repairs. Give us a call if you notice any of these signs:
Cold spots in your home with the heater not heating properly although it's turned on.
The heater is not starting when it should. This could signify a problem with the thermostat, which is in charge of letting the heater know what the current temperature is.
Loss of heating control could mean that there is a mechanical failure such as a broken belt, fan motor or bearings. These issues could cause the heater to overheat.
Services Include:
How Can We Help You?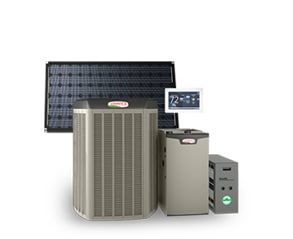 The single most important element that determines a heating and air conditioning system's performance is the quality of installation. Don't take a chance with yours.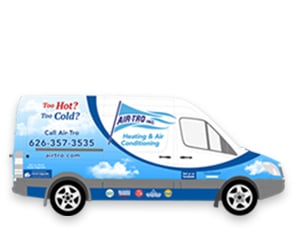 Our trucks are fully loaded for any emergency. Whether you're in need of a small repair or something more serious, our trained experts have your best interests in mind.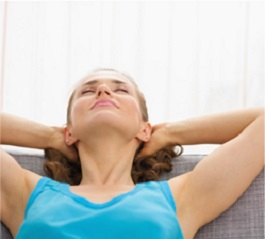 Breathe easy knowing your air quality is taken care of. We work diligently to ensure your air quality systems are installed properly and in excellent condition to do their job.
Call Air-Tro Inc. Today!
Are you searching for furnace repair Duarte? When you need service for your heater or furnace, trust the experts at Air-Tro Inc. With almost 30 years experience in the Duarte area, Air-Tro Inc. has the skills and knowledge to fix your problems properly and efficiently. Call 626-357-3535 and ask for a free estimate on your next heating project!