Pasadena Air Handler Repair, Installation & Replacement
Looking for expert Pasadena, CA air handler services? Call 626-357-3535 and speak to the knowledgeable staff at Air-Tro Inc. Let us solve your air handler needs. Save instantly on your next call with exclusive online specials and coupons. Click here to save now.
If you're experiencing problems with your air conditioning unit, the true underlying issue might be your air handler. At Air-Tro Inc. we work to discover the true issue behind your air conditioning problem. We ensure the right measures are taken to prevent further damage and fix the problem once and for all. So, to get to the root of the problem call your trusted cooling experts at Air-Tro Inc.
Past customers agree! Read reviews and feedback from your neighbors in Pasadena, CA.
What is an Air Handler?
The air handler is an important component of your air conditioning system. It's a large, metal box that usually houses all the subcomponents of your system. This includes the heating and cooling elements, air filters, blower motors and air circulators. The air handler is connected to the ductwork in your home. If it is working properly, it can reduce the workload on the other components in your cooling system.
Common Air Handler Problems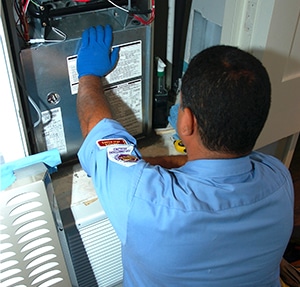 Some of the most common air handler problems we see include:
Basic mechanical and electrical problems
Contamination from outside pathogens or other allergens
Overheating from a dirty or clogged air filter
Broken or malfunctioning evaporator coils
Structural problems
Most air handler problems stem from improper maintenance or a lack of care and diligence.
Many air conditioning issues can be traced back to air handler problems. That is to say, a well-maintained air handler will prevent many emergency repairs from occurring.
Call a Professional for Timely Service
Leaving an air handler problem go on without getting looked at can cause damage over time. This is why it's important to get issues checked out in a timely manner. Hiring a professional to maintain your air handler is very beneficial. Specifically, it can mean improved air quality in your home and running a more efficient air conditioner. Our knowledgeable staff knows what to look for and can spot small issues that may cause a problem later on.
Scheduling regular maintenance for your air filter and air handler, you can ensure you do not run into surprising repairs. And, your home remains comfortable and cool when it matters.
Call Today for More Information
When you call Air-Tro Inc. in Pasadena for air handler services, you can expect friendly and efficient service. Our technicians assess your issues from all angles and can recommend the best course of action for your problem. Whether it's decreased efficiency or noticing the air quality in your home lessen, call 626-357-3535 and let Air-Tro Inc. take care of all your air handler needs.