Arcadia Furnace Repair & Heating Repair, Installation & Replacement
If you're feeling the heat from a malfunctioning furnace, call the experts in Arcadia, CA heating repair and installation. Call Air-Tro Inc. today at 626-357-3535. Find out how you can save on your next heating project with our online specials and coupons. Click here to save instantly!
When you call Air-Tro Inc. for your heating and furnace services you can expect unrivaled service by professionals who care. Our expert technicians arrive to your call with the tools and experience to get your job done right the first time. We are proud to serve Arcadia, CA and the surrounding area for all your furnace repair as well as heating repair, installation and replacement needs.
Click here to see what others are saying about our service.
How to Save Money on Heating Bills
By ensuring that your heater is working efficiently, you are already saving on heating costs. However, there are some other steps you can take to get even more bang for your buck with your heater. Try these tips and see your bill reduce by up to 20 percent!
Have your heater checked every year for maintenance to make sure everything is working properly and the components are clean and free of debris.
Clean air ducts and replace air filters often to ensure free-flowing air to and from the heater.
If you find yourself calling for heater or furnace repairs more than you would like, it might be time for a replacement. Recurring problems are often only fixed by installing a new system that will save you money in the long run.
Keeping an eye on your heating system and getting regular maintenance can ensure that all components are running properly and your heating system is working at its highest efficiency.
What is Included in Regular Furnace Maintenance?
When you call Air-Tro Inc. you can expect a thorough and comprehensive inspection of your furnace. Our technicians look at potential problem areas while cleaning and replacing parts that wear or get dirty quickly, such as your air filter.
Regular maintenance includes the following:
Cleaning or replacing air filters
Inspecting the pilot light to ensure functionality
Checking on the status of the thermocouple
Inspecting thermostat connections
Inspecting the furnace control board, limit control and gas valve
Testing the blower motor and run capacitor
Our Services
How Can We Help You?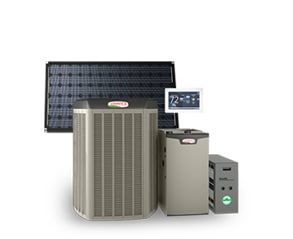 The single most important element that determines a heating and air conditioning system's performance is the quality of installation. Don't take a chance with yours.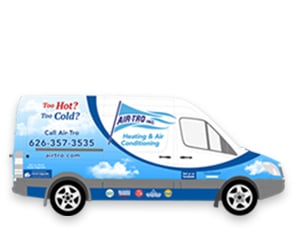 Our trucks are fully loaded for any emergency. Whether you're in need of a small repair or something more serious, our trained experts have your best interests in mind.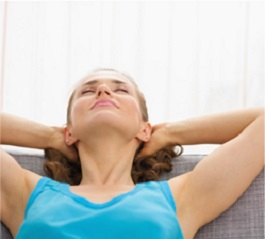 Breathe easy knowing your air quality is taken care of. We work diligently to ensure your air quality systems are installed properly and in excellent condition to do their job.
Call Today to Save
When you regularly clean and maintain your furnace or heater, you can expect to run a more efficient system while also having your thumb on any potential problem areas. Prevention is the best defense when it comes to your heater or furnace. And, receiving regular maintenance means you won't be caught in the cold with an emergency furnace repair.
To schedule your furnace or heater maintenance or air filter cleaning, call 626-357-3535 now and speak to the experts at Air-Tro Inc.