Glendale AC Repair, Installation & Replacement
When it comes to the comfort within your home or office, don't you deserve the best? Call Air-Tro today for straight talk, friendly service and comprehensive HVAC services for the entire Glendale, CA area. We've been keeping California comfortable since 1969! Get in touch with us today at (626) 357-3535. And click here for special deals and coupons to save you even more on your next service call.
For more than four than four decades, Air-Tro has provided a broad range of HVAC services to our clients in the Glendale area, including maintenance and repair as well as custom design and installation.
Don't just take our word for it, see what others are saying about our services in Glendale.
Custom System Design and Installation for Glendale
Our team of mechanical engineers is known for their innovative solutions to even the most challenging heating or air conditioning challenge. We create efficient, custom-designed HVAC systems for any specification with high performance, energy saving equipment to meet your requirements.
Glendale Air Conditioning and Heating Repair
Glendale area residents are used to weather extremes, but with Air-Tro, we can keep you comfortable year round. Need repairs or maintenance services on your HVAC system? Our staff is ready and able to meet your needs. With real-time GPS radio dispatch, we have more than 30 fully equipped Air-Tro vehicles in our fleet. One of our technicians is likely in your area of Glendale during our business hours from 8AM to 5PM weekdays, and Saturdays 8AM to 2PM!
Get in touch to schedule your service call with one of our knowledgeable, friendly service technicians. We'll be there as soon as possible to help!
Glendale Air Conditioning and Heating Installation
Did you know that new HVAC systems are more energy efficient and high performance than ever before? Your older air conditioning and furnace could be costing you extra money in energy bills, while failing to heat and cool your Glendale home or commercial building as efficiently as a newer system could. With multiple rebates and coupons available, Air-Tro can also help you save real money on installing a brand new HVAC system that will last for years to come.
Other Services
How Can We Help You?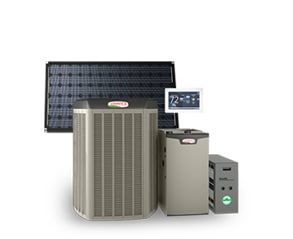 The single most important element that determines a heating and air conditioning system's performance is the quality of installation. Don't take a chance with yours.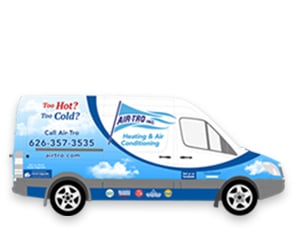 Our trucks are fully loaded for any emergency. Whether you're in need of a small repair or something more serious, our trained experts have your best interests in mind.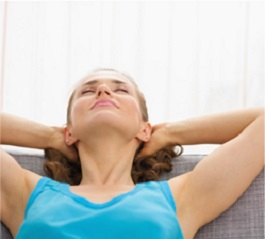 Breathe easy knowing your air quality is taken care of. We work diligently to ensure your air quality systems are installed properly and in excellent condition to do their job.
Get in touch today with the company that Glendale trusts for all their heating and air conditioning needs! For close to 50 years, Air-Tro has been keeping California comfortable with award winning service and expert installation, maintenance, and repair services. We are committed to your total comfort and satisfaction. Call us at (626) 357-3535.