San Marino AC Replacement, Repair, & Installation
Is a malfunctioning AC unit ruining your summer? For AC replacement in San Marino California (and surrounding areas) trust the experts at Air-Tro. We also take care of AC repairs and installations. Call 626-357-3535 today. Find out how you can save today with our exclusive online specials and coupons. Click here to save!
Your air conditioner is an appliance that you just expect to work properly. Turning it on and getting cool air is something you hardly think about. So when your AC unit malfunctions, it's even more stressful because it's usually at a time when you need it most. At Air-Tro Inc. we pride ourselves on providing prompt service that's efficient, allowing us to get your AC unit back up and running in no time.
Others agree! See what the rest of San Marino, CA is saying about our service.
Most Common Air Handler Problems
The air handler is a metal box that houses all the important components of your air conditioning unit. It's an important part of your cooling system and should not be overlooked. Some of the most common air handler problems we see include:
Contamination from outside particles or pathogens
Basic mechanical failures or malfunctions
Overheating due to a dirty or clogged air filter
Broken, malfunctioning or frozen evaporator coils
Structural problems to the box itself
If your air conditioner is performing strangely in any way, it's alway best to call the professionals for immediate service. Catching the problem right away can limit the damage done and will get you back up and running in no time at all.
Specializing in Ductless Mini Split AC Units
Ductless mini split AC units are gaining in popularity for the following reasons:
Individualized and customizable – With a ductless mini split, you can control the temperature of each room individually. So for lesser used rooms you can use less air while ensuring the high traffic rooms stay cool.
Money Saving and Environmentally Friendly – With a typical air conditioning unit, much of the cool air is lost in the ducts. With a ductless system, you do not need to worry about this. You are also saving money by only cooling the rooms you use. Running a higher efficiency unit that only gets used in the rooms it must means that less energy is being used and you are creating a smaller carbon footprint.
Simplicity – Most ductless mini split systems run off a simple remote. Meaning there are no frustrating knobs or other settings to mess with. The remote is aesthetically pleasing and can be carried with you in every room.
Other Services
How Can We Help You?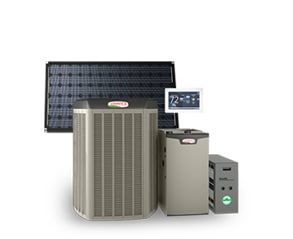 The single most important element that determines a heating and air conditioning system's performance is the quality of installation. Don't take a chance with yours.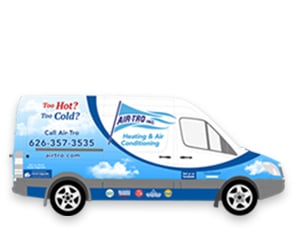 Our trucks are fully loaded for any emergency. Whether you're in need of a small repair or something more serious, our trained experts have your best interests in mind.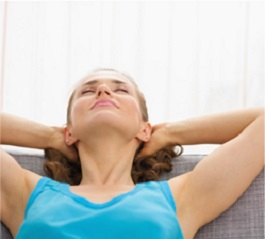 Breathe easy knowing your air quality is taken care of. We work diligently to ensure your air quality systems are installed properly and in excellent condition to do their job.
AC Replacement San Marino California — Call Today for an Estimate
Whether you are looking for ac replacement in San Marino California (and surrounding areas) or AC repair, maintenance or installation, the Air-Tro experts in San Marino, CA have you covered for all your cooling needs. Call us today at 626-357-3535 for a free quote.