Sierra Madre AC Repair, Installation & Replacement
Is the heat getting to you? For fast and efficient Sierra Madre, CA cooling system repair and installation, trust the experts at Air-Tro Inc. Call 626-357-3535 now. Click here and save instantly on your next call. Receive online specials and coupons now.
When the temperatures start to rise and you turn to use your AC Unit, you expect it to work right? There's nothing more frustrating than waiting until summer before finding out you have a problem with your cooling system. When you call Air-Tro Inc. in Sierra Madre, CA you can expect immediate assistance with all your cooling and air conditioning needs.
Click here to see what others are saying about our expert AC repair and installation services.
When Should I Replace My Air Conditioner?
A typical air conditioning unit lasts about 10 years. If you notice signs of wear and tear from your unit and it's beginning to reach the 10 year mark, it may be time to consider replacement. Your trusted Sierra Madre cooling expert can provide you with more information, but if you notice any of these signs, a replacement is probably in your near future:
Grinding or clunking sounds coming from your unit.
An inconsistent temperature or increased humidity in your home.
Leaking or pooling water around the unit.
As your air conditioning system ages, it begins to lose efficiency. Running an air conditioner that is not working at its best can be unnecessarily expensive. A higher efficiency unit can end up saving you more in the long run.
Why are Evaporator Coils Important?
The evaporator coil is the component of your air conditioner that actually cools the air being pumped into your home. Located next to the air handler, the evaporator coil has refrigerant pumped through it to a component that decreases the pressure and cools the refrigerant to the point of almost freezing. From there, the refrigerant is pumped back into the coil, coming into contact with air and removing the humidity. The excess water drops into a pan below the coil and the cool, non humid air is pumped into your home.
As one of the most vital components to your AC unit, the evaporator coil should be inspected often, and cleaned of excess debris and other materials to ensure efficiency.
Other Services
How Can We Help You?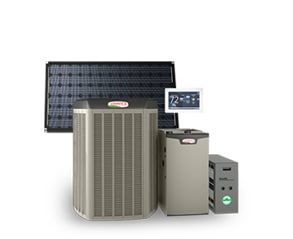 The single most important element that determines a heating and air conditioning system's performance is the quality of installation. Don't take a chance with yours.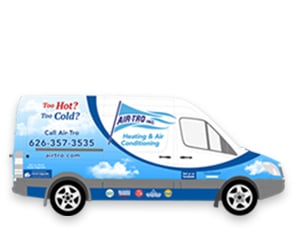 Our trucks are fully loaded for any emergency. Whether you're in need of a small repair or something more serious, our trained experts have your best interests in mind.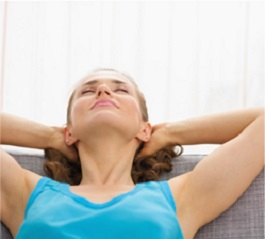 Breathe easy knowing your air quality is taken care of. We work diligently to ensure your air quality systems are installed properly and in excellent condition to do their job.
Stay Cool with Air-Tro Inc.
Whether you are looking to have an AC system repaired or installed to give relief from those long summer days, the experts at Air-Tro Inc. are always prepared to do their best work for you. We believe in doing a job right the first time.
To speak to one of our friendly and knowledgeable technicians in Sierra Madre, CA, call 626-357-3535 for a quote today!