Monrovia AC Repair, Installation & Replacement
Don't sweat a complicated repair. Call the experts in Monrovia, CA AC system repair and installation. Contact Air-Tro Inc. today at 626-357-3535 for a quote. Find out how you can save on your next call by clicking here for online specials and coupons. Save now!
Keeping your family cool and comfortable in the summer is one of your top priorities. Well, it's our priority as well. For trusted cooling system maintenance, repair and installation in Monrovia, CA call Air-Tro Inc. Our friendly and knowledgeable staff have the tools and experience to solve all your cooling problems quickly and efficiently.
Find out what others in Monrovia city are saying about us.
Why Should I Change my Air Filter?
One of the most common repairs we see as cooling specialists are dirty or clogged air filters. Keeping your filters clean is vital for maintaining an efficient cooling unit. The air filter works to allow airflow, but block out particles and dust that can damage or break the mechanical components inside the air conditioner.
If your air filter is dirty, you can experience a malfunctioning cooling system, or notice reduced efficiency or a higher than normal bill each month.
We recommend that clients clean or replace their air filters at least once or twice per year. If you have pets in your home, or someone who smokes or suffers from allergies, we recommend changing your filter even more often, even as often as every 60 days.
When to Replace your AC Unit
Since your air conditioner runs almost uninterrupted in the warmer months, wear and tear can begin to show up easily. When it comes to your AC unit there are a few tell-tale signs that point to a definite new unit in your near future. If you notice any of the following issues with your air conditioner, call the professionals at Air-Tro Inc. right away.
Odd sounds coming from your unit
Water pooling around the unit
Decreased efficiency or increased humidity in your home
Air conditioning units typically last about 10 years with regular maintenance. If you are unsure about your AC system, and it's getting up there in years, make sure you call Air-Tro Inc. immediately to take a look.
Other Services
How Can We Help You?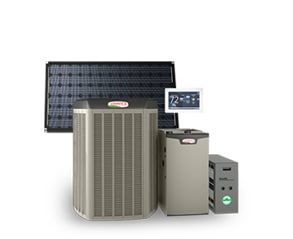 The single most important element that determines a heating and air conditioning system's performance is the quality of installation. Don't take a chance with yours.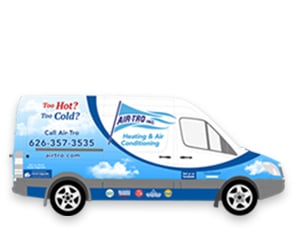 Our trucks are fully loaded for any emergency. Whether you're in need of a small repair or something more serious, our trained experts have your best interests in mind.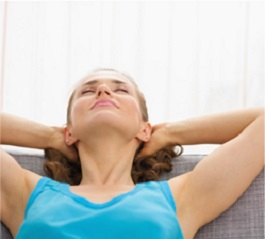 Breathe easy knowing your air quality is taken care of. We work diligently to ensure your air quality systems are installed properly and in excellent condition to do their job.
Stay Cool All Summer
When you call Air-Tro Inc. in Monrovia, CA you can expect top notch service at fair and reasonable prices. Our technicians believe in doing a job right the first time and will not waste your time with repairs or servicing that you do not need. During your call, your trusted technician can make recommendations for you to save money with future cooling and energy costs, and we always make sure our messes are tidied before leaving.
Call us at 626-357-3535 today for a quote and more information about our cooling services.