That's right. Fifty years ago, John and Helen Helbing moved their family out to California and John set up Air-Tro Heating and Air Conditioning to provide premier comfort to the residents of the San Gabriel Valley.
Midwest Exiles
John Helbing was raised in Wisconsin, while Helen was an Illinois native. They had started their family in San Diego, while John was serving as a US Navy officer. Once his com-mission expired, they returned to their Mid-west roots. But they had fond memories of California, and in 1969 they decided to re-turn to the Golden State.
John Founds Air-Tro, Inc.
John Helbing had a degree in Engineering from Marquette University, and wanted to start a business with a technical aspect. He trained as an air conditioning expert, and founded Air-Tro, Inc. in San Gabriel on May 16, 1969. He started with big dreams, two employees—and no customers (yet). Time to get busy, and start building a business. He quickly outgrew the San Gabriel shop, and moved to bigger quarters in Temple City.
Donn Capps & Jim Hunter Join
In 1975, Temple City native Donn Capps came by to see if Air-Tro was hiring. The following year, Jim Hunter joined the team. Both proved expert technicians and quickly rose to management levels. Donn Capps is now our Installation Manager, running nine crews of expert workers. Jim is our Service Manager with over 20 technicians. Between them, they have 89 years (!) of service at Air-Tro.
The Next Generation Comes on Board
John and Helen's oldest son, Anthony Helbing, went to Boston University for college. When he'd finished his degree, he decided to embark on a sales career in the toughest sales market in the US; the island of Manhattan in New York City. Tony went to work for Lanier Corporation in office equipment leasing, building from an outer borough territory right into the heart of Manhattan. He loved the Big Apple. But home called.
The younger son, Robert, went to the California Institute of Technology (Caltech) to get his own degree in engineering. After graduating, he went to work in Southern California's aerospace industry, working primarily on ballistic missiles. The work was challenging, the pay was good—but it wasn't ever going to be his own business.
So in 1987, both Tony and Bob independently decided to accept John's offer to work inside Air-Tro. Tony worked in sales while Bob worked in operations.
John Helbing Retires
After 25 years of leading Air-Tro, John decided that 1994 was the year he was going to retire. He'd put a good management team in position, and he wanted to travel with Helen, and perhaps improve his golf game just a bit. He sold the business to his sons, and embarked on an active, fulfilling retirement. And his golf game DID get better.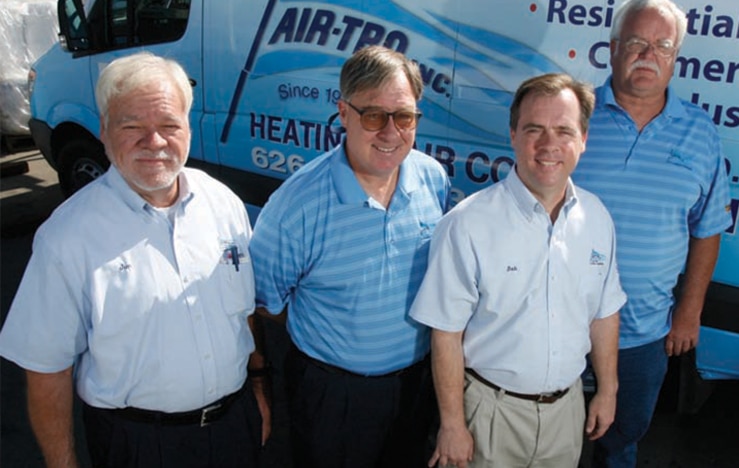 Keeping the Flame Alive
Since then, the team of Donn, Jim, Tony and Bob have kept John's dream of premier service alive. Now all four have their own sons working in the business, making sure the next generation is ready to maintain the tradition of craftsmanship and customer service John began 50 years ago.
We want to express our gratitude for trusting your homes and families with us all these years.