Stopping Pollutants in Their Tracks
Indoor air quality is always a concern for homeowners, especially here in Southern California. Yet few people are aware of the role they can play in ensuring their own HVAC equipment is filtering air at its best. Wondering how you can keep indoor air in your home at its cleanest for your loved ones?
It starts with MERV.
Don't worry, it's not some guy in a leisure suit, it's a rating system created by the American Society of Heating, Refrigerating and Air-Conditioning Engineers (ASHRAE). In fact, it's what HVAC insiders call Minimum Efficiency Reporting Values, and it's a useful metric when comparing air filters for HVAC equipment. The higher the rating, the more effective your air filter, as it will capture the smaller particles of dust, mold, pollen, and bacteria from your home. Specific MERV ratings mean an air filter is better at blocking specific irritants, so knowing an air filter's rating is good information to have before purchasing.
Many consumers are familiar with HEPA  (high-efficiency particulate air) grade products, yet you might not know that these pleated mechanical filters can actually remove at minimum 99.7% of all airborne particles 0.3 microns in size. That's pretty small. However, HEPA filters usually require a separate fan system to filter your air. Your HVAC system may not be compatible with this form of filtration.  Don't panic if it doesn't—MERV can help.
If you or your family are sensitive to air quality, indoor pet owners or suffer from shortness of breath, frequent headaches, allergies or other health issues that affect your breathing, you should be using an HVAC air filter that is rated 8 or higher on the MERV scale. Furthermore, you should be changing it even every month during fire season or every 2-3 months during the rest of the year. The photo accompanying this blog is a pleated air filter rated 7 on the MERV scale; it was placed in a home immediately after the terrifying Bobcat Fire in fall, 2020. Smoke and residual ash continued to plague the entire San Gabriel Valley for weeks after the fire was contained, and as you can see, this filter needed replacement only 60 days later!
What Kind of Air Filter Has a High MERV rating?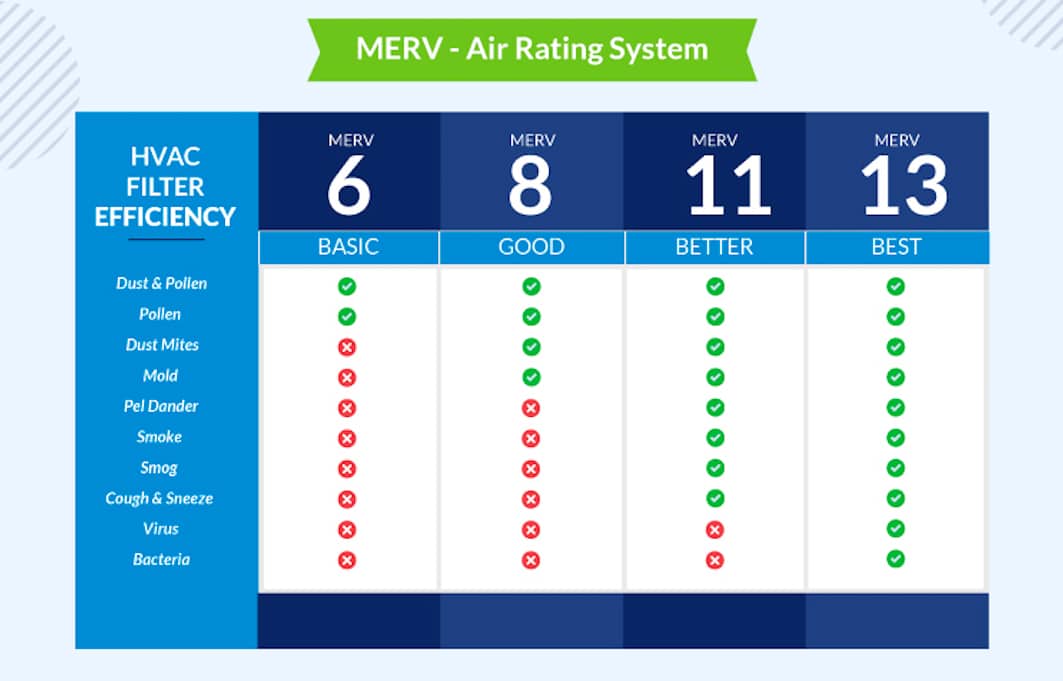 Many homeowners assume that the cheapest air filters, usually fiberglass, will be just fine when it comes to filtering the indoor air inside their home. If you live in the pristine mountains of Colorado or along an isolated beach in Mexico, you may be right. However, these fiberglass air filters have very low MERV ratings, and we suggest passing on these altogether if you're using them for a Southern California home.
Electrostatic filters are also popular. These attract consumers by being reusable, in that you simply wash and rinse them periodically to clean. Clearly, it's a more environmentally responsible product than the usual filter that you simply throw away and then replace. However, these filters too are not rated for the kinds of smoky, polluted conditions we Southern Californians often face. They simply do not filter out the smaller particles that will have an impact on your indoor air.
The fact is that only air filters rated by MERV as 8 or above will remove most of the dust, smog, mold and smoke coming into your home far too many days out of the year here in the Los Angeles area. So take the time to choose the right one- and switch it out as often as needed. It's a simple chore and one that will yield real health benefits. When it comes to breathing easily, you and your loved ones are worth it!
Confused about the best air filter for your home? Call the experts at Air-Tro for advice. We've been keeping California comfortable since 1969. (626) 357-3535.