Affordable Solar Means Clean Energy Options Are Here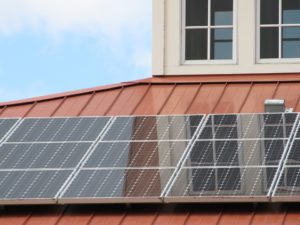 The demand for clean, renewable and inexpensive energy sources is at an all time high. With today's changing technology and recent federal and state incentives, energy options are changing for the home consumer. Rooftop solar panels, once cost prohibitive, are now a realistic alternative for many homeowners. Could you be saving money with this increasingly popular energy source?
A Few Questions May Have the Answers
According to the Home Energy Renovation Opportunity (also known as HERO), an energy efficient financing program, the answer lies in how much electricity you actually use currently, as well as your home's size. Consumers with larger homes, with their equally large electric bills, can particularly benefit from rooftop solar panels and the commensurate lowering of energy costs. However, even homeowners with less square footage may see significant savings each month from the addition of well placed solar panels. With additional rebates from programs like HERO and major tax credits, even the installation costs can also be reduced.
Any Downsides to Solar Power?
Homes where it's foggy or cloudy most of the time are often not good candidates for solar panels. Frequent storms or hurricanes also interrupt the ability of the photovoltaic cells to gather power. Additionally, if your house is under a tree canopy and mostly shaded, installation placement of your solar panels could become a problem. Luckily, many of these issues aren't that significant to those of us living in Southern California. Nevertheless, the initial expense of installing rooftop panels means you'll want to ensure they're maximally exposed and capturing the most energy possible, saving you money with every sunny day.
HVAC System Considerations
Did you know that you can buy a solar-powered air conditioning system? A Dave Lennox Signature Series air conditioner, for example, has all the electronics built in to manage up to 15 solar panels that generate a maximum 2,600 watts. And the best part? When you're not using your air conditioning, the solar energy accrued is used to power your home's other appliances. Not using any other home appliances? Send the power right back to the grid, and receive a credit from your utility company.
Air-Tro Can Help
Still wondering if solar power is right for you and your home? Give us a call here at Air-Tro at (626)357-3535. We're up to date on all the latest tax credits, rebates and energy company incentives that will save you real money on your energy bills every month. After all, we're Southern California's heating and air conditioning specialists, no matter what the weather!